MJ Flood Security offers various options for wireless intercom systems, which can be a great alternative to installing a new cable or replacing an old one that may not be suitable for a conventional intercom system.
Comelit Wireless Audio Intercom with Portable DECTphone
(WA1 & WA2)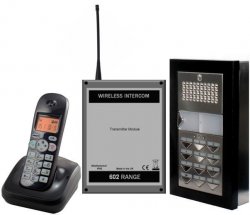 One option is the Comelit Audio Intercom with Wireless Portable Dectphone (WA1 & WA2), which comes with an external call station mounted outside the front door. The call station is connected to a wireless transmitter, which transmits the signal to a walkaround dectphone that can be up to 200 meters away (or 80 meters through an external wall) from the transmitter. This intercom system also features a coded access system that is ideal for providing wireless access to a gateway.
Wireless Intercom GSM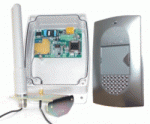 The Comelit GSM audio intercom (WG1) utilises the latest mobile phone technology to transmit calls from the external station to the answering phone inside your home. With this wireless intercom system, you have the flexibility to install the external call station at any distance from your answering phone. Additionally, you have the freedom to choose any SIM card from any mobile phone operator, enabling you to select a card that performs well in your area. Popular options include Vodafone, O2, and other reputable carriers.
Wireless Colour Video Intercom System (W-V1)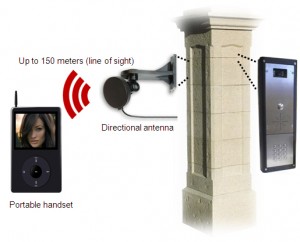 The W-V1 is a modern digital wireless video intercom system that allows the video display unit to be placed up to 70 meters away from the external call station, even through one external wall. Unlike traditional video intercoms, the video display unit is portable and can be charged in a cradle when not in use.
The outdoor call station has a built-in colour camera and LED lights that enable clear night-time viewing from inside the station. The call station also comes with a 12V mains inline adaptor, a 2.4GHZ antenna, and a stainless steel facia.
Benefits:
High-quality digital colour wireless video intercom system
No need for wires to be installed between the gate call station and video intercom located inside the house
The video is transmitted digitally using a digital frame technique, allowing the video to be transmitted over long distances
Longer range distances are achievable if the video handset is located near a window that has a line of sight to the antenna connected to the external call station
Night vision button to activate LED lights for night-time viewing.
Comelit Wireless Video Intercom System (W-V2)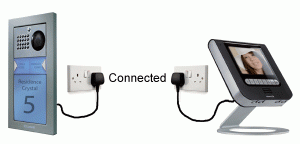 The Comelit IPOWER Video Door Entry System is a new addition to the market. This system transmits the video signal from the external call station to the internal video handset via the mains electricity in a building. Installing this system is effortless as you only need to power the external call station and the internal video intercom.
The internal video intercom is available in two colours, black or grey, and can be conveniently unplugged and moved to a different room as needed, for example, during the night. Furthermore, this system can be expanded to accommodate two separate units/apartments, and each apartment/unit can have multiple video monitors.
Benefits:
Easy installation – no wires, no mess, no hassle. Mount the external unit, plug it in, and plug in the internal video handset
The system records all visitors to the door while the property is unoccupied
Signal transmission does not rely on any line of sight from call station to video intercom handset
The video handset can be moved and used in any room in the house, as long as it is plugged into a power socket on the wall
Contact us at 01 689 6390 now and have a custom Wireless Intercom system designed just for you!