MJ Flood Security provides a diverse range of Intercom Systems, with a focus on quality, workmanship, extended product guarantees and reliable customer service. As an ISIA (Irish Security Industry Association) Registered Corporate Member, MJ Flood Security adheres to stringent guidelines with all integration specialists possessing the Private Security Authority.
We specialise in providing the following Intercom System Services:

 All-In-One Indoor Station 
Powered by Hikvision's innovative technology, the Android All-in-One Video Intercom Indoor Station gives you security control with a single touch. Users can handle intercom calls and unlock doors in one click and the built-in Hik-Connect app enables you to remotely manage access. The station includes a video intercom, video security, and access to control devices.
The all-in-one station also includes a gesture screen lock for convenient and secure operation.
The All-In-One Indoor Station has a 10-inch IPS touchscreen with clear views at 1024×600 screen resolution. Features of the indoor station include:
Easy network connection setup with Wi-Fi and ethernet support
4-Core SoC to provide better performance
An open platform for easy third-party software integration
New user interface
Hik-Connect is built-in to bring devices from the cloud platform to the local indoor station, which ensures easy operations. You also have the ability to run 3rd party applications on the open platform indoor station to expand the use case scenarios.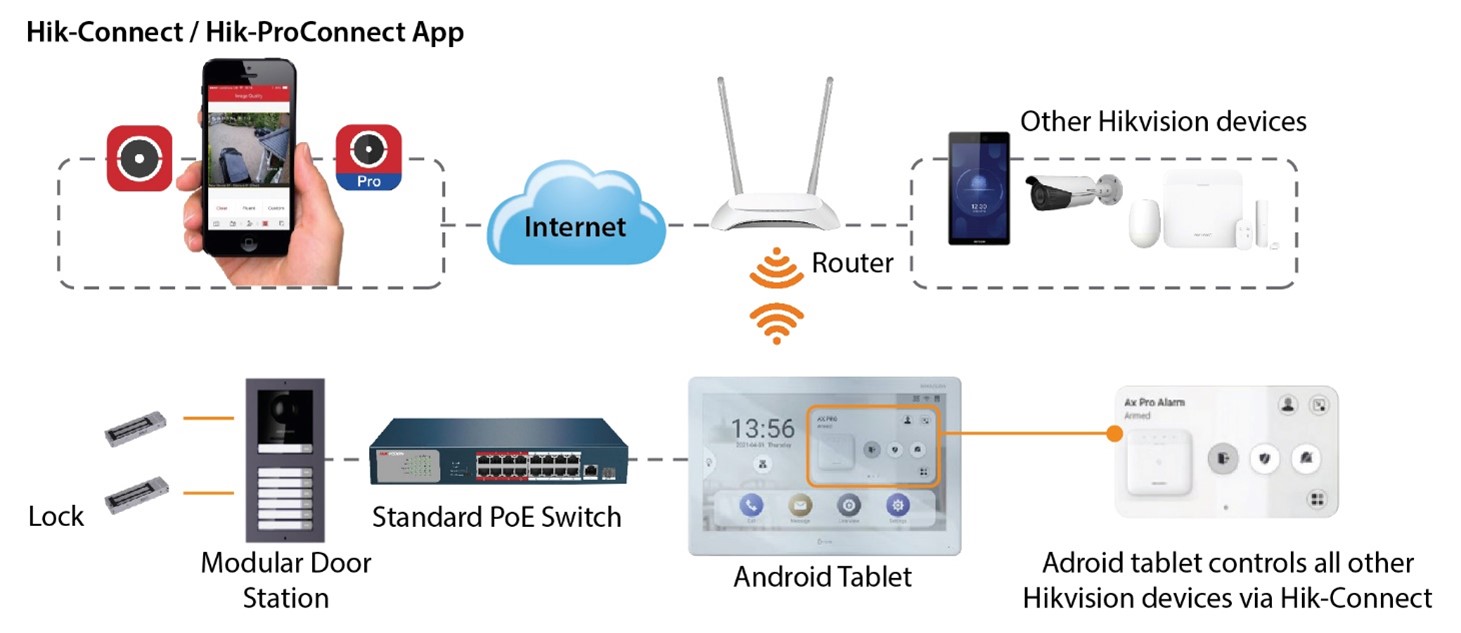 This all-in-one management system includes built-in Hik-Connect functionality, ensuring easy operation for device management. This indoor station offers users central management for video intercom, intrusion alarms, access control, IPCs, NVRs, and other Hikvision devices – controlled by the all-in-one indoor station. Users can complete daily operations conveniently with just a tap when entering or exiting.
Audio & Video Intercom Network System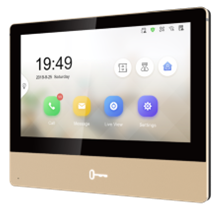 The video door entry system from Hikvision enables you to see, talk and answer your doorbell via Hik-Connect Mobile Application.  Also, the Audio/ Video System consists of an outdoor video calling unit and an internal touchscreen tablet.
A video door entry system gives you the ability to screen visitors and only grant access where necessary, increasing the security and protection of your residential or commercial property. Including a tablet design that uses a 1.3MP camera and a built-in microphone and speaker.
MJ Flood Security will only recommend market-leading intercom systems from trusted manufacturers with advanced technology, premium quality components, and modern finishes.
Hikvision Two-Wire Video Intercom

Hikvision's Two-Wire IP Video Intercom Bundle is one of the few IP solutions in the market right now and delivers wider viewing angles than the competition. With 2 MP, IR and night vision, CCTV integration, and an IP65 rating, the bundle hold some of the most robust specifications available to clients.
The DS-KH8340-TCE2 two-wire IP indoor station with a 7-inch touch screen supports hands-free communication with door and master stations and features noise suppression and echo cancellation. It features a video intercom and access control functions. Remote answer call and unlock features are available via the Hik-Connect smartphone App.
Features of the DS-KH8340-TCE2: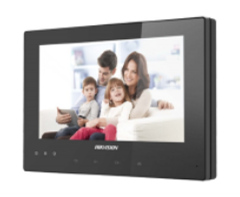 Hands-Free Audio-visual Communication with the Door Station and the Master Station in the Intercom System
Supports the Monitoring of Door Stations and External Cameras
Supports Auto-Answering and Do Not Disturb Mode
Noise Suppression and Echo Cancellation
Supports 8-ch Zone Alarm Input
Supports Panic Call
Remote Unlocking via the Client
Convenient Installation and Easy Operation
The DS-KAD709 is an integrated unit that supplies power to indoor and outdoor stations. Its two-wire interface and adaptive network interface can support up to five devices and one external switch.
Features of the DS-KAD 709:
Supports Up to Five Two-Wire Stations
(2 Outdoor Stations Maximum)
One 10/100M Self-Adaptive Network Interface to Support External Switch
24 VDC Power Supply and Communications between Door Stations and Indoor Station
Industrial Design and DIN Rail Mount Supported
The IP bundle simplifies cabling, allows for long transmission distances, and delivers a plug-and-play feature set with flexible mounting options.
Audio Intercom Systems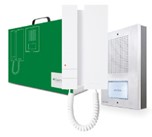 Comelit entrance panels are design-conscious products, inspired by the masters of modern architecture and decorating the entrance to your property in style. Elegant, durable frames that showcase all their technological potential when necessary.  The modular stainless-steel entrance panel stands up to everything, designed to withstand any act of vandalism.
Available in an audio-only version and an audio/video version.
A caller simply presses the outdoor call station button which sends an electric tone to the intercom phone unit.  A  traditional system with electronic calls and key functions.
Features Include:
2-way audio communication between you and your visitor
Unlock your door with just the push of a button
Easy installation with a single power supply
Simple and reliable wired connections
Attractive design and is convenient to use
The Kit Includes one Mini-series door-entry phone and one extra series external unit with 1 call button.  The kit can be expanded with another door-entry phone.  The external unit can be either surface-mounted or flush-mounted using the relevant accessories supplied with the kit.
A Wireless intercom may also be an option for you if there's no cable from the external to the internal unit.  As an audio intercom, this solution is very cost-effective and often installed along with a  CCTV Camera as additional security at the front of your home or business.
Audio Intercom Systems for Multi-Units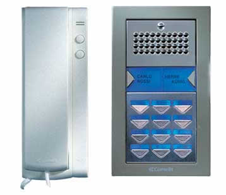 If you need the facility to call separate commercial units from the external intercom door station or different families in various apartment units, then this is the intercom system for you.
This Comelit Powercode Intercom allows visitors to call the family or business by pressing the relevant button. While they can speak to the occupant and be granted access.
This system has integrated coded access so the occupants of the building can access their property by keying in their unique code into the keypad on the external intercom call station.
MJ Flood Security can custom build the intercom system according to the number of users required, the external call station can be surface mounted or flush mounted depending on the application.
Hikvision Wi-Fi Video Doorbell
Protecting your Residential or Commercial premises from unwanted guests is simple when you install an Intercom System.  An Intercom is a perfect way to screen all visitors and minimise the risks of opening the door to unwelcome company. At MJ Flood Security, our security technicians carry out quality installation and maintenance on commercial and home intercom systems throughout Ireland.
Hikvision's Smart Doorbell Camera combines convenient access control features, such as PIR motion detection with a customisable detection area, infrared night vision, Wi-Fi connectivity, and the ability to access on-demand streaming video and listen to two-way audio via a mobile application.
Giving a 180-viewing angle with noise suppression and echo cancellation, the doorbell gives users an optimum environment to make an access decision. Features such as motion detection and voice prompt support every eventuality that could be needed on the doorstep, giving the user a high level of convenience needed in managing front door activities.